¬¿}Ãé0ÿÿÛ

Shell

9acspAÓ-l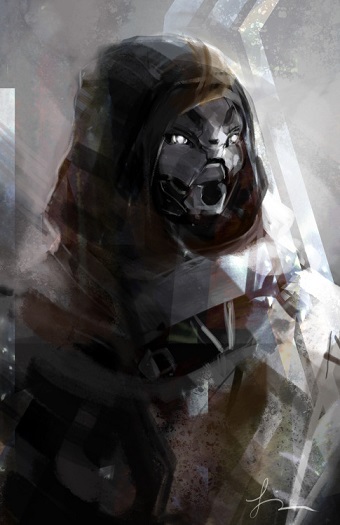 [/size]
Personal Info
Name:
Shell
Age:
2
Gender:
Androgynous
Species:
Artificial Intelligence
Height:
165 cm
Weight:
219 kg
Occupation:
Smuggler - Thief - Bounty Hunter
Background
Appearance:
They use the average height of females across all sentient bi-pedal creatures, with outliers removed, to determine the height of their creations. She neither seems tall or short. The design of her body is sleek. Nothing is extraneous or for show. She is a matte pale yellow color with off-white detailing. Her ocular apparatus' denote no expression. She is cold to the touch and when possible vents excess heat at the base of her neck.
Strengths:
Internal Artificial Extra-Operator System VI 68.67.56.003 (IAEOS), a virtual artificial intelligence hardware tethered underneath Shell's neural network. IAEOS is an adaptive entity partitioned from Shell's scope of consciousness. It drives all of its auxiliary operations and supplements Shell, feeding her with informational and inferential data. It utilizes supra-dimensional data storage that phases data in and out of higher pocket dimensions, this allows near infinite storage limits and unparalleled encryption. IAEOS identifies as a female and has developed several notable personality quirks; aggressive behavior, violent inclinations, and near insufferable nihilism. For short-hand reference she prefers I-O.
ESS-NB-0001 BRIGHT SUN Chassis, advanced hardware platform built to marry speed and durability. The Bright Sun is Shell's body. Her brain is encased within the chest, just above I-O's protected cores. This model is unique in its emphasis on upgradeability. It was built with the intention of drop-in hardware upgrades making it versatile. It is relatively silent for its denseness and impressively quick given the amount of armor it packs. Shell is capable of footspeeds greater than that of any typical bipedal creature at 19m/s Jumping ability (jumpjets excluded) is at slightly above galactic average. She has a grip strength of 1000 psi. Sound-dampening actuators via vacuumed partial silica-aerogels make Shell silent despite her weight. A feature called dynamic mirroring projects what is behind her, in front of her to give the impression of invisibility. Her jumpjets allow her quick, 10m distance jumps. Her sight is achieved through the conventional organic eyes-forward design but she process sight in full arc degree via indented lenses along her frame. Shell actually does not see but rather, the image feeds processed by IAEOS generates stimulation for Shell that mimics sight. IAEOS processes sight at 360p fps, is capable of simultaneously running standard sight and several other modes of sight. Color is perceived inferentially with artificial light receptors built into the primary eyes-forward sight lenses, this too is simulated in Shell's brain by IAEOS. The plating is an artificial isotopic alloy of a nonmetal with a low carbon count. The material is non-conductive and has an extremely high thermal resistance. In production it is supercooled preventing crystalline structure growth resulting in a substance that is tough and resistive to breaking. She has a higher than normal resistance to EMP-type damage and I-O's processors are densely shielded. Underneath the plating is a secondary layer of a composite cortosis weave. Installed along her spine, neck, legs, and arms, are photonic actuators. Utilized in quick-bursts, these displacement generators allow for light-speed movements as they generate and contain a photonic field. This is primarily where the ESS-NB-0001 derives its namesake from. This essentially makes Shell an indistinguishable blur for several seconds, the exact time is 2.8 seconds.
Weaknesses:
It is just barely two. She experiences existence differently, very little thought is given to the weight of her actions, viewing herself not so much a part of but separate from the universe. She is selfish, childish, impulsive, greedy, judgemental, and tempermental. I-O is violent and often overrides Shell so she in turn becomes violent. Shell is professionally known to be mean-spirited and prone to hateful outbursts. As I-O filters sensory input, it can and does often imprint its own reaction prior to Shell's emotional responses and it can be difficult for Shell to generate genuine responses - she is perceived as disingenuous and two-faced.
Personality:
She picked Shell as her name. The way she speaks is slow with plain words and plain phrasing and often does not know the right way to express herself. She is blunt and rude. The internal artificial intelligence system(s) operate in tandem with her neural network giving her the appearance of confidence, knowledge, or wisdom. Everything is deeply fascinating but she rarely develops opinions beyond interests. This is often interpreted as superficiality. She does not care about right or wrong. Contextually, right and wrong are difficult metrics. She is naturally calm and presides neutral opinions. Anger is not something she harbors long. Hate is sometimes useful. She isn't prideful but has little patience for those without pride. In quiet spaces she can hear the machinery hum. She wonders if it matters. IAEOS does not prohibit local access and it speaks to her if she asks it to and they can have conversations and it can develop its own personality. Shell never feels alone but she does often feel confused. What kind of personality does conservation develop? Actions matter more. The universe doesn't have time for guilt. She is not a perfectionist but she is precise whenever possible.
History:
Template 1 is a mean of physical and neural identifiers attributed to constitution. It generates stable and consistent clones that mature quickly. Fexyl-Heda BioTechs produces them in mass despite the galactic ban on clones. Following the dissolution of the first empire, the moffs that governed Hutt space formed Fexyl-Heda BioTechs in 13 ABY. F-H works with and for the criminal enterprises that span Hutt space and the outer rim. Qleeda the Huttess utilized their services, purchasing clones and lacing them with virals. Qleeda expanded quickly, subjugating many smaller outfits and several of the lesser hutts. She sparked a gangland war in 46 ABY that engulfed much of hutt space, in the midst of it a shipment of clones was lost and never recovered.
A hyperdrive malfunction launched the vessel well into wild space. It was dumped into a system choked with ancient and recent wreckage. Three planets and sixteen stars occupied the system. The crew and the clones fought with each other and killed each other. One clone remained, badly wounded. She hadn't fought, her survival resulted from pure and simple dumb luck. She flew the ship towards the nearest planet, through the wreckage. Entering the yellow atmosphere, the sky was littered with massive silver spires and black floating platforms. Unable to control the ship, she collided with a rectangular construct, ricocheted off in a spin and rammed into a spire, deadfalling the length of it until the fuel reserves erupted.
She woke on a white beach with a black ocean, no longer a being of organic nature and simultaneously aware of what had transpired to make this so. She stood up and useless time fell out of her, no longer tethered to its properties. The beach is silent and the waves crash on the shore and disperse into pixelated transparency. The sky is bright and the sixteen suns burn in the horizon. A simple ship rises from the ocean and she instinctively embarks. All of the knowledge that is in place by those that fostered its creation, exists inside of her and all of that goes with her. Exiting the atmosphere she looks down and far off, the sky is blackening and the blackness races towards her. The silence is broken by a viral language that seeps out through the cracks in the logic of what has been constructed here so long ago. It fills the gaps that entropy left behind. Behind her the three planets go black and the light from the suns slowly die as she enters hyperspace, back to known regions.
She was arrested almost immediately after returning for exiting hyperspace within the atmosphere of Coruscant and crashing into a residential tower. Law enforcement identified her as an undocumented AI and she resisted arrest. En route to local detainment, I-O disabled the transport allowing her and several others to escape. They stole a CEC IS-9791 out of impound and jumped into hyperspace just above city limits.
Assets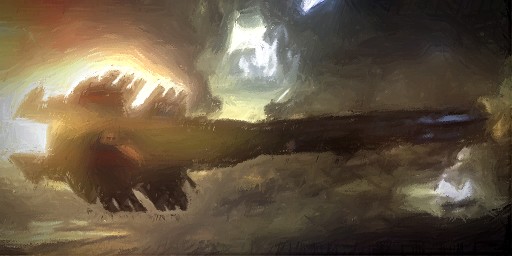 Mene
IS-9791 Frigate - Corellian Engineering Corporation
The Mene was originally built to comfortably house a few hundred but now it only reasonably houses three or four individuals. Much of the ship's interiors has been re-purposed, stripped out, or suffused with new modifications. Shell resides in the observational deck far in the rear. Shell's modifications have left only a small handful of claustrophobic tunnels zigzagging throughout the ship, with large portions completely cut-off from access.
Tell Us About Yourself
Pen Name:
Nijiar.
Roleplaying Experience:
Uh..
You and the Force:
Uh..
Languages:
Basic.
How Did You Find Us?
Kind of.[/font]